2008 Voting Post
This is the post linking you to all the relevant posts for Voting.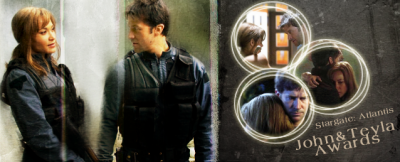 Voting has begun for the 2008 John and Teyla Awards!
There are two information posts:
Voting for 2008 Nominees
Categories for 2008 Nominations
This year, we've divided the nominees into categories, and you must specify the sub-category when you submit your vote.
Fanfiction
Artwork
Music Videos
Best SGA Scenes/Episodes
Voting will close at 11:59pm on Sunday 20th April (Pacific time).
Voting is closed!
We'll be counting the votes over the next few days, so stay tuned for news of the winners!